Sr. Suzanne Noffke, O.P., Ph.D.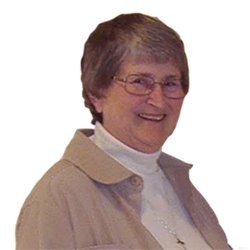 Sr. Suzanne Noffke, O.P., Ph.D., one of the world's leading experts on Saint Catherine of Siena, has lectured internationally and led numerous retreats based on the life and thought of Saint Catherine. She has published annotated translations of all of Catherine's extant works (The Dialogue, 1980; The Prayers, 1983; The Letters of Catherine of Siena, 2000, 2001, 2007, 2008), as well as a two-volume thematic Anthology (2011), a book of essays (Catherine of Siena: Vision Through a Distant Eye, 1996, 2006), and numerous articles.
After receiving a doctorate in linguistics at the University of Wisconsin–Madison in 1968, Sr. Noffke served as president of her religious congregation, the Racine Dominicans, from 1970 until 1976. She has taught at such institutions as the University of Illinois at Urbana-Champaign and the University of Chicago. She is a member of the Catholic Theological Society of America and served on its Board of Directors from 1968 to 1970. Sr. Noffke also serves as one of her congregation's historians, having published Embrace the Swelling Wave: The Dominicans of Racine, Wisconsin in 2004.
"Sr. Noffke's work is always ground-breaking, always lucid, always pristine. This recorded lecture series promises to be all those things as well."
– Robert E. Bjork,
Foundation Professor of English, Arizona State University
Showing all 5 results